5G is going to be a game-changer. It is going to disrupt the world, and it will be happening soon. 5G is expected to start to be rolled out this year and it will continue to roll out over the next few years.  I believe 5G and all of its ramifications are not priced into the market currently and so there are opportunities to play the 5G roll-out especially on the long side.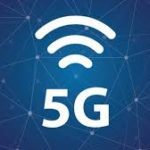 What Is It?
5G is shorthand for the 5th generation of wireless technology.  I refer you to this article by PC Magazine for the specifics and technicals.  If you want to further geek-out, read the Wikipedia entry for 5G.  Most smartphones currently operate on 4G, if they are not on WiFi.  5G is a quantum leap above 4G in the following areas (according to the PC Magazine article):
Greater speed to move more data;
Lower latency to be more responsive; and
The ability to connect more devices at once.
New Phones
Your current 4G phone will not be compatible with the 5G technology.  That means as 5G is rolled out and you want to participate in the new technology, you will need to purchase a new phone.  As many phones as Apple sells now, think about how many more they can sell if all of the current phones become obsolete!  If you don't think this bull market has any more legs, think about that!  The current largest company in the world still may have a lot of room to grow.
Home Internet
I believe this is the most disruptive application for 5G: It can (might?) replace your cable internet provider.  Just put a 5G modem in your house, and Voila!  Internet access that is a quantum leap faster than anything that is generally available today!  Google Fiber, if you are lucky enough to live in one of the very few areas that offer it, offers 1 gigabit of power.  5G will offer 1 gigabit right out of the box, without having to dig up streets or lay any new cables or even connect new wires in your home.  Just plug in your modem and it comes seemingly from the air.
This plays right into the cut-the-cord trend.  Currently, you can cut your cable tv and go to over-the-air networks and streaming services, but you still need to pay for internet access in order to stream.  If and when 5G is made available for home internet, that could literally kill cable tv and cable internet access as we know it.  I don't like the prospects of companies such as Comcast and TimeWarner because of 5G.
How To Play 5G
If you like the concept that all current cell phones are soon to be obsolete, then you should own stock in the current largest cell phone vendors.  Samsung and Apple are the two largest players, but they together account for less than 40% of the market.  The remaining big players include Huawei and other companies that are difficult to buy.  Even Samsung, as large as it is, is very difficult to buy for US investors.  The easiest way to play Samsung for US investors is to buy the South Korea ETF (EWY), which is about 20% comprised of Samsung stock.  That leaves Apple as one of the purest plays for cell phone 5G.  I don't believe there will be a new entrant that is currently not selling cell phones who will be a player in 5G phones.
If you like the home internet meme, then I really like AT&T and Verizon, which are likely to become the dominant home internet providers over the next few years through 5G.  AT&T is currently being dragged down by issues related to its proposed acquisition of TimeWarner, but I really like T's future, and you get a 6% dividend at the current price.  VZ has been performing better than T, and you don't have the uncertainty of a pending merger.
As for the hardware related to 5G, Intel and Qualcomm will be among the leading US players in 5G.  There are a lot of international firms involved that are harder to play for US investors.  The current issue involving Chinese company ZTE is all about the future leadership of 5G.  I would stay away from the ZTE controversy – there are a lot of other ways to play 5G.
IMO
The hype surrounding 5G is not overstated.  The home and business tech world will look much different 5 years from now than it does currently because of 5G.  Keep your eyes open to the opportunities and the possible pitfalls.