I am currently listening to an Audiobook version of Ken Langone's autobiography, titled "I Love Capitalism!". Ken Langone was a Wall Street banker who arranged the financing for Home Depot and became very wealthy as a result. He became a philanthropist, and the School of Medicine at New York University is named after him. Despite his riches, Langone is a noted cheapskate, and he would be proud of me because I am borrowing his Audiobook for free from the library.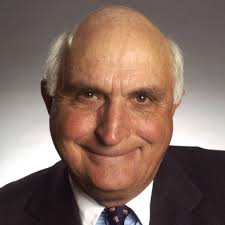 Assortment of Jobs
Langone came from a working-class family and his drive to work hard to make money and achieve his goals was evident early on. The jobs that he had while he was still going to school and college included the following:
Paperboy
Grocery Store Shelf Stacker
Snow shoveler
Road construction laborer
Cigarette salesman
Stationery vendor
The key word is work. Langone had to work to make money and he didn't care much about what other people thought about the jobs he had, as long as he got paid. As a kid, Langone didn't really have an idea of what he wanted to have as a career, so rather than sit around and think about it, he just worked his jobs and figured something good would come of it. That's a great attitude to have.
Life Is A Journey
The point I am making by using Ken Langone's life experience is that life is a journey. While it is important to have a goal, it is also important to work and to learn and enjoy all of the experiences that you have with each job you have and with each day. The more you show up every day, the more you learn and the better you can figure out how and where you fit in.
Achieving Your Goals
The other point is that you don't reach your goal on Day 1. Instead, it takes a lifetime of experiences to reach your goals. With respect to planning your finances and achieving financial independence or whatever else your goal may be, it will only happen over a long course of time. As a result, you need patience. Other people's life experiences may get in the way of your own, as manifested in the ups and downs of the value of your investment portfolio. Make sure you keep this in perspective. It's great if you hook up with a hot company and make megabucks and realize your dreams upon its IPO, but that's not the norm. In fact, even that IPO story involves a crap-ton of work by the people who built the company. Ken Langone became an "overnight success" with Home Depot only after years of working his butt off in different capacities on Wall Street. If you are getting impatient, please don't be, and instead enjoy the experiences of the journey that you are in the middle of.
IMO
In addition to the concepts of working hard and being patient that Ken Langone expresses in his autobiography, another concept is also music to my ears. Just the title, "I Love Capitalism!", with an exclamation point, is a sentiment that is in short supply these days, and is certainly not "woke". It is great that so many people, particularly young people with no life experience with socialism, feel bad that not everyone shares in our abundance in equal measure. The empathy therein expressed to the lessers is laudable. However, big state-controlled socialist government models are not the answer. Capitalism is not perfect but it does a lot better job distributing wealth to those that want it and need it than does socialism. Socialism has never worked and never will. We need more Ken Langone's who are willing to go against the current sentiment and express admiration for capitalism, warts and all.