Don't be surprised if we have a sell-off in the stock market during December. Why? Because sell-offs happen when you least expect them, and because markets have been moving up a little too smoothly with decreased volatility during the past year. It all could be a bit too good to be true. I believe we could see a return to higher volatility and a market downturn between now and December 31.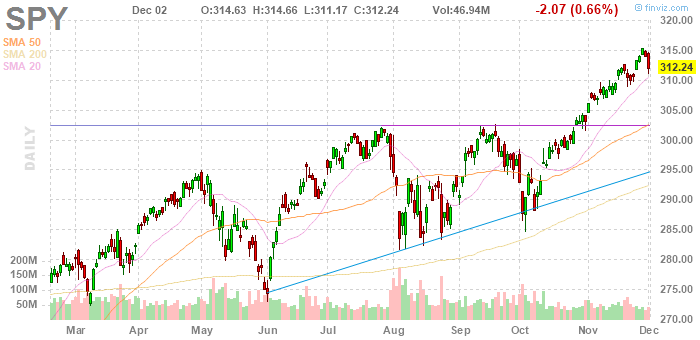 YTD 2019
The S&P 500 ended November up about 25% YTD and with the VIX Volatility Index at about 12.6, at the low end of its recent range. The S&P 500 has gone up almost in a straight line since October 1, despite major headline headwinds. Larger institutional investors may look to sell and book some profits this year despite underlying fundamentals (low unemployment, low interest rates, positive GDP growth) that point to improving market conditions. My thought is these large investors sell now, book a positive 2019, and re-invest in 2020 and see what happens then.
What Should You Do?
If you are a long-term investor, just hold tight. Don't sell in advance of something that may not happen, but don't add to positions either. A market sell-off may feel like a short sharp shock, but typically a sell-off will have a basic pattern and will play itself out over a time period. If a sell-off does happen, I would view it as a technical sell-off, not one based on declining market or economic fundamentals, although the financial press may try to put that false narrative out there. If that is the case, and I am right about large investors wanting to book 2019 profits, then look to re-engage sometime right after 1/1/20.
IMO
I get the most worried when things are going a little too well. Now is one of those times. Though I am not losing sleep, I believe we could see some rough sees for the remainder of 2019. I recommend you hold your ammo for now until we get some confirmation first of a sell-off and then of an uptrend that ends the sell-off.