Everybody in my city seems to be wearing Lululemon clothes. By everybody, I mean almost all women and some men. Lululemon just moved into a huge new spot in the shopping center nearest me. Despite that, during busy times, lines form to get into the place. "Athleisure" wear may be the bane of fashion designers but it is a huge hit among the general population. Lululemon is the best in class.
Canada
Lululemon is based in Vancouver, B.C., Canada 21 years ago by a man inspired to make superior yoga clothing. It quickly expanded to sell all types of workout clothes for women and for men. It tapped into the "Community" and "Culture" notions of shared experience among its customers such that customers feel like they are part of something larger through buying and wearing Lululemon clothing. In addition to its community and shared experience, Lululemon differentiates itself through its commitment to a quality product, patented materials, and innovation as demonstrated by its drive to expand the market for yoga-based clothing.
Stock Price
Lululemon IPO'd at $18/share in July 2007. At its current price of about $168, that means Lulu's annual return is in the 20%-range – an outstanding investment if you bought at the IPO and held on all of these years. It has grown from a single store in Vancouver to a company with a market capitalization of about $21 Billion in 21 years – perhaps not the compounded growth rate that Facebook has had but a tremendous success story for a traditional apparel company.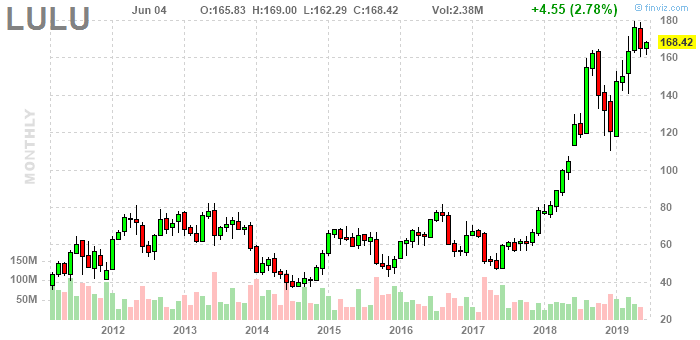 The chart above is a Monthly chart going back to early 2011. You will note that Lulu traded within a range of between $40 and $80 from 2011 to 2018. It was thought perhaps to have topped out before breaking through in early 2018 and reaching its current high level. Lulu currently trades at about 44 times current earnings and almost 30 times projected earnings, so it is expensive even for a growing company. Would I buy it at this price? Yes, but I wouldn't bet the farm on it, and I would own it as part of a diversified portfolio. The market is not saturated with people wearing yoga clothes, especially considering overseas markets, and so I believe there is plenty of room for Lulu to grow.
IMO
I admire great, new, innovative companies and the entrepreneurs and management that have led their growth. Lululemon's management has aligned and has created a bond with its customers and its community that has driven customer loyalty, such that Lululemon clothes are the staples of many of its customers' wardrobes. I will be interested to see if Lululemon can continue to capture the same market segments as it continues its international expansion.
I don't own Lulu (directly – I do through mutual funds and ETF's), and my opinions about the potential future performance of Lulu stock is worth what you have paid for it. That said, if you are interested in more "top down" analyses of individual stocks such this, please contact me and we can perhaps come to some arrangement.