I have written a couple of posts before about Tesla. I thought it would have severe obstacles ahead of it especially as other car companies brought their own electric cars to the market. I thought it was overvalued prior to Covid. Now I think its recent performance is insane. There is no justification for TSLA to be the 6th or 7th (depending on how you view it) most valuable publicly-traded company, with a market cap of nearly $600 Billion, and worth more than the next 9 auto companies combined. Only if TSLA outperforms its most optimistic projections might this valuation make sense.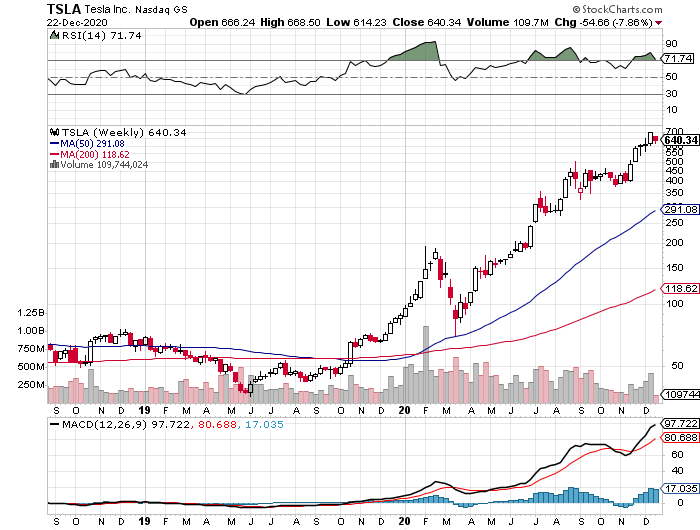 Covid Is Bad For Cars
Why am I not a TSLA bull? For a number of reasons. Let's start with the environment for new car sales. Covid and the resulting changes in the way we work can't be good for future new car sales. People aren't driving nearly as much. They are working from home so they are not driving to the office. Shopping opportunities are limited so they aren't driving to go shopping. Families with multiple cars are considering whether they will continue to need multiple cars. The US population is getting older and retired couples are more likely not to have multiple cars. The China market is growing for Tesla so they do have that trend in their favor, but most other trends point to slowing car sales instead of increased sales. In looking for a catalyst to have propelled TSLA from under $100 in March 2020 to $640 today as I write this, I don't see it in the potential growth in the new car market.
Move Toward Electric Cars
There is an argument that if a car buyer wants an electric car, they will want a Tesla and will likely not look at another brand of electric car. Other electric car brands have had real difficulty in catching on and sales projections have not been met. Tesla's market share of the electric car market is over 80% in the US, but Tesla is less than 2% of the new car market inclusive of gasoline cars. So, if Tesla retains its 80% EV market share and is able to grow its overall market share to 10%, then perhaps you have an argument for growth, but not to the extent that TSLA has already performed. Governor Newsom's recent mandate that 100% of all car sales in 2035 in California must be zero emission vehicles points toward an increase in EV sales, but we will see how well Newsom's mandate will be enacted, especially since it was a mandate and not a law and since he will likely be gone from the scene by 2035.
S&P 500
Now TSLA has been moved into the S&P 500 Index. However, guess what? TSLA has underperformed in the days since it has been added to that Index. Perhaps the buy-up occurred prior to the actual inclusion on the Index, and investors will dump TSLA now that its inclusion is complete. We will see, but perhaps this is an instance of buy on the rumor and sell on the news.
A Bubble
I can view TSLA's 2020 performance only as a bubble propelled by major money chasing momentum plays. There has been no catalyst resulting from Covid or from anywhere else in 2020 that has caused TSLA to be fundamentally worth nearly $600 Billion. There are no traditional metrics that make sense. Perhaps I am showing my age here but if you are long TSLA here you are risking a lot. Jump off now before everyone else does.