Pfizer's news on Monday that its coronavirus vaccine candidate achieved 90% efficacy in a phase 3 trial has been well received on Wall Street. The S&P 500 rose over 3% and the small-cap Russell 200 Index was up over 5% on Monday alone. The hope is that the vaccine will enable the economy to return somewhat to pre-Covid normalcy.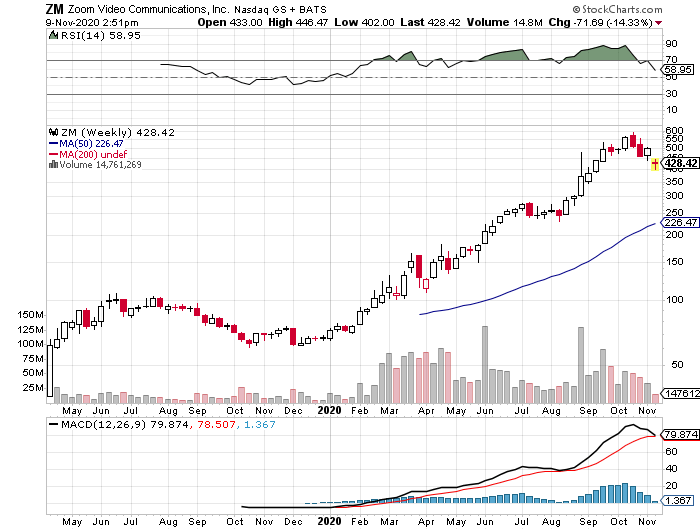 Zoom
That said, not all sectors participated in Monday's rally. In fact, the Pfizer news was bad for companies whose stock has "zoomed" since the Covid outbreak during the first quarter of 2020. One of the hardest hit on Monday was Zoom Video Communications (ZM). The Zoom technology that enables groups of people, schools, and companies to continue to function through remote video calls and meetings has become synonymous with the Covid world. Most everyone in the US now has experience with Zoom, either through business meetings, classes, social events, remote cocktail parties, or any other reason to get together. Even the 2020 NFL Draft was conducted through Zoom and it was a great success. Zoom is a free app download for users (with an upgraded for-pay option available), which has enhanced Zoom's appeal and has resulted in widespread adoption for its technology.
Zoom's rapid adoption rate resulted in an explosion in its stock price. As the chart shows, ZM went from the low $70's pre-pandemic to a high of about $580 in late October 2020. ZM has since eased off its high and with a 14% decline on Monday it sits at about $420, which is still an approximately 470% increase since pre-pandemic.
Overvalued? Or Buy the Dip?
So, as an investor, what should you do next? The "buy" argument says that the Pfizer vaccine is great but it will take a long time for the vaccine to be manufactured and rolled out nationwide and worldwide, and there could be hiccups along the way. Moreover, even if the vaccine is widely adopted (a question which is open to debate), it is unlikely that everyone will go back to school and work as they had before the pandemic, and a significant portion of the population demand to remain in the cyber world because it will be easier for them in the future. Therefore, Zoom technology use will remain an important and needed part of life for people hereafter. The recent price dip is a great buying opportunity, say ZM bulls.
The "sell" argument is that ZM remains too highly priced even after its Monday pullback. According to finviz.com, ZM has a market cap of over $140 Billion, which makes it the approximately 60th most valuable company in the US, and more valuable than both ExxonMobil and Chevron. Its price/sales ratio is over 100 and its forward P/E ratio is about 170. Perhaps Zoom technology will remain important and even grow if a vaccine is successfully implemented but there is no way Zoom will perform well enough to justify its stratospheric multiple metrics.
IMO
As you probably guessed, I am not a ZM bull. My issue is that there are a lot of other technologies that offer a similar experience – products from Google and Microsoft among them. Zoom is great but I don't see it as a "killer app". More likely, if its management is smart, they should look to find a buyer now at this inflated price. I see Zoom as an excellent addition to a company like Google. Although Google already has Google Meet, it would really enhance its profile in the videoconferencing space by purchasing Zoom. I don't see Zoom's value as a standalone company at this current inflated price, even with its recent pullback.