We are perhaps witnessing the tipping point of massive disintermediation away from ownership in stocks of Chinese companies. Hong Kong's Hang Seng Tech Index was down 8% today and is down 26% YTD. China's CSI 300 Index was down 3.5% today. I believe there are 3 reasons why we are seeing this sell-off in Chinese stocks, although all three really boil down to the fact that the Chinese are Communists. Let's explore: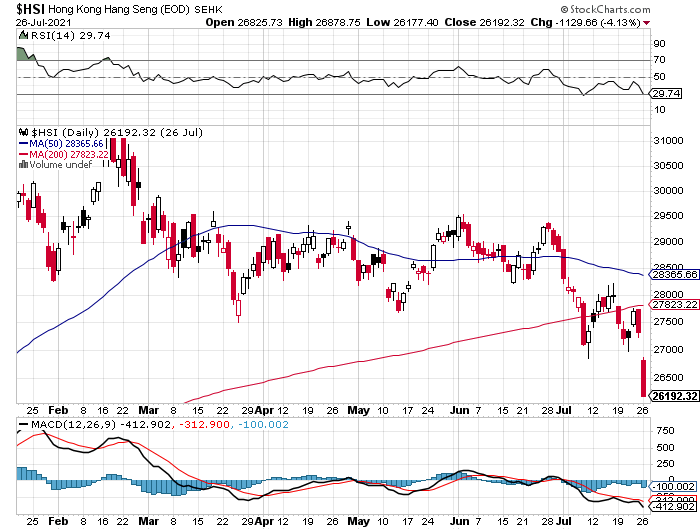 More Regulations
The main media narrative, as reflected in this Wall Street Journal article, is that today's selloff is due to increased regulations on big high-tech companies recently issued by the Chinese Communist Party (CCP). The CCP is growing wary of the increasing power of big high-tech companies in China, and so they are passing new laws to keep their power in check. As these companies have grown in status and have become more powerful, the CCP's grip on its populace has become less powerful (sort of). New regulations as to how ride hailing company employees are to be treated (an issue also here in the US, by the way), as well as regulations on private tutoring companies have been unsettling, as was a short suspension of new users by WeChat.
No Audits
The new regulations by the CCP may be the narrative, but I believe there are deeper reasons why we are seeing this sell-off. One big reason is that, due to the backing of the CCP, Chinese "private" companies that are listed on American exchanges are not subject to the same audit standards as any other company that lists on American exchanges. DiDi Global, whose stock recently IPO'd here in the US, has gotten hammered because of the lack of audit standards. Referencing this article on Protocol.com, investors as well as US Government officials are ramping up demands that Chinese companies should be subject to the same audit standards as everyone else. Without a standard audit, how can an investor be sure that the financial results reported by Chinese companies are true? This is not a new issue, but investors now seem to be waking up to this issue even more, especially with the DiDi Global IPO and its negative performance since its IPO. By the way: US investment banks that have brought these Chinese companies to the US markets and have been paid handsomely for doing so have been complicit in this continued financial sham. I understand Caveat Emptor, but investment banks need to take a stronger stand on this issue.
Coronavirus
The real tipping point issue I believe has been Coronavirus, and specifically China's and the CCP's uncertain role with its origin and spread, and their continued efforts to obfuscate. I believe Coronavirus is causing a macro change in the way China is viewed, from China: Good to China: Bad. As long as China continues to act like Communists with respect to the Coronavirus, I believe China's reputation will continue to worsen, and investors will treat Chinese companies with an increased level of skepticism.
IMO
When asked how someone goes bankrupt, Ernest Hemingway famously said with his economy with words, "Two ways: gradually, then suddenly." I think we may be at the point now when the sense of ethical bankruptcy of Chinese companies may be moving from gradual to sudden. Investors start to sell positions in Chinese companies, and very soon a trickle becomes a flood. There could be very significant ramifications to world financial markets if I am correct.