Wow!  What an amazing run for Netflix stock (NFLX)!  It has risen from $192 to $400 YTD this year alone, which is a more than 100% increase.  That ain't bad, as Yogi would have said.  As the below Weekly chart shows, NFLX was in the low-$100 range or below that during most of 2016, then began its upward run during the Fall of 2016, just before you-know-who was elected President.  NFLX hasn't looked back since.  NFLX is so high now that 2 analysts (Buckingham and UBS)  have downgraded NFLX just because they believe NFLX has met its price target already and now may be priced too high.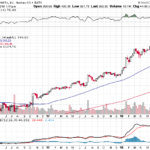 Original Content
The impetus for NFLX's run upward has been its original content.  Quality original content is what drives subscriber growth.  Netflix's original content has been very good.  Emmy Award nominations were just announced and Netflix had the most of any network with 112 nominations, ahead of HBO's 108.  This speaks to the high quality of Netflix's content.  Subscribers will pay the $11/month if they are getting good value in return, and they are, so far.  This article posted on Investopedia says that Netflix will spend $13 Billion on original content in 2018, more than the $8 Billion Netflix had targeted at the beginning of 2018.  That's what happens when your stock price doubles.  The Investopedia article also states that the average Netflix subscriber streams 90 minutes of original content per day and that Netflix streaming accounts for 1/3 of all internet traffic.  Think about that!  There must be subscribers out there who do nothing but sit there all day and stream Netflix, to bring the average up, because I don't come close to streaming 90 minutes per day.
Will the quality original content continue to result in subscriber growth?  Many who follow the subject believe Netflix's best opportunity for subscriber growth is outside the USA.  If so, Netflix will eventually hit roadblocks via regulatory (China) and affordability (India) issues.
Earnings
Update:  Netflix's 2nd Quarter earnings were released and revealed that Netflix's subscriber base grew by "only" 5 million vs. 6 million forecast for the quarter.  The stock is down about 13% to about $347, meaning NFLX hasn't doubled in 2018 after all.  That's a big hit in the stock but it means the stock is only up 75% this year instead of 109%.  Still pretty good.  Let's see how it runs from here.
IMO
I am skeptical that Netflix can continue its string of success in producing high-quality programming content at a relatively low and contained cost.  Netflix's formula has worked so far, but this being Hollywood and the entertainment industry, there is likely to be a point at which either Netflix produces a dud or a string of duds, and/or stars will want to be paid more to do jobs for Netflix.  In a way, Netflix has been the New England Patriots of the entertainment industry:  getting good value work from previously-unknown players/actors, but then jettisoning them when they have problems (Kevin Spacey) or grow too big for their britches.  Every other Hollywood studio throughout history has eventually fallen victim to hubris.  Will Netflix be the first not to fall victim as such?  I doubt it, but that doesn't mean Netflix will implode when it hits an inevitable rough patch.  I just believe that its rate of growth will slow down, which will disappoint Wall Street analysts, which will spark turbulence for NFLX stock.  I also believe that there will be increased competition for the streaming eyeballs.  Amazon Prime is a player and I believe there will be others.   With 5G connectivity on the horizon, we will see what new technologies that will spur and what companies will be there to take advantage of the new technologies.  I believe Netflix is a great service, but not one that will conquer the world.  I wouldn't short it, but I wouldn't go all in with it as an individual stock play.  I own NFLX through my QQQ and other ETF's and I believe that's the best way to play NFLX while remaining diversified.